Discover more from Fair Comment
How to build a public and political consensus for a fairer Britain
Over 1,000 subscribers
Building a fairness argument is child's play
Revisiting the Fairness Index to look at a live issue shows that it remains a useful tool to explore and explain the nature, causes and consequences of key inequalities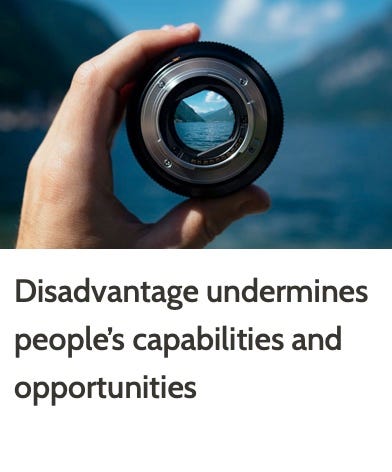 As the father of two small-ish kids, I've spent more than my fair share of time kneeling on the floor, swishing through an ever-growing pile of LEGO® bricks in a vain search for the crucial missing piece, which is invariably miniscule and the same colour as the carpet. And we are way too far gone to even think about buying one of those special filing cabinets to separate all the pieces by set, or colour, or some more esoteric category.
Even so, you've got to love LEGO. What I like about it is that a child - or an adult - can quickly build something all of their own (assuming that you have branched out beyond following the instructions that came with your set). Your creation is unique. But you didn't have to individually mould each brick or minifigure - that was done for you. You just had to stick them together in a way that no one else had ever done before (as far as you know).
Now I'm going to segue seamlessly into talking about fairness. Last October, we published the Fairness Index:
The index looks at 15 indicators, three for each of the five Fair Necessities, to explore whether we live in a fair society, how and why certain inequalities are unfair, and how to make society fairer.
The 'why' part was crucial. A key objective was to explain why the highlighted inequalities were unfair - and therefore fixable, rather than being inevitable or even somehow justified.
Towards this end, we published a set of 33 key arguments about the causes and consequences of the gaps highlighted in the index (including why they are unfair). In each case, we presented a small number of supporting arguments from highlighted third-party reports, alongside links to those reports.
I like to think of those arguments as the fairness equivalent of LEGO bricks. (They're not a comprehensive list, needless to say - everyone always needs more LEGO bricks.) The arguments can be combined and assembled in different ways to help to explain how and why newly emerging or suddenly topical inequalities are unfair.
Let's take one relatively live example (no, not unidentified flying objects over North America): bankers' bonuses.
It's bonus season, and there's been plenty of moaning about the fact that investment bankers are seeing their pay packages down by about a third compared to last year. This is nothing to do with the bonus cap - the lifting of which is still up in the air pending a consultation, and the effectiveness of which is questionable - it's largely the consequence of market forces. But I'm more interested in why bankers are paid so much more than most other people in the first place.
I want to construct an argument about how our society and economy rewards some people excessively, while failing to reward others enough (or at all). Let's see how I can use the arguments in the Fairness Index to do this, much more quickly than building something from scratch (but without resorting to ChatGPT).
I hope that the Fairness Index could help you to build your own arguments as to why particular inequalities are unfair. Please let me know if you have any thoughts about how this could help you, or how we could make it more useful in the future (we'll be publishing an updated version of the index in the autumn).